Fashion in the 1940's was simple as fabrics were scarce due to the rationing that occurred as a result of World War two. As the rationing came to an end, the 1950's saw a revolution in the fashion industry. In comparison to the 1940's, clothes became fuller, with multiple layers and various fabrics were being used. The 1950's also saw an economic boom in America which lead to a rise in discretionary spending. Advertising for clothing was targeting both men and women by implying that the items advertised would attract the opposite gender.
In the 1950's fashion and self image were strongly correlated. Women were being conformed to a body shape of a smaller waist and defined hips. The dresses women wore accentuated these desired features. Dresses were rarely plain, most had printed patterns with different styles of sleeves and collars. Since the men had returned from war, women became less independent in their work careers and more dependent on their husbands. A woman's appearance was linked to how successful their husband was. For example, a lady was not seen as being properly dressed without what was seen to be an essential accessory of the decade – a pair of gloves.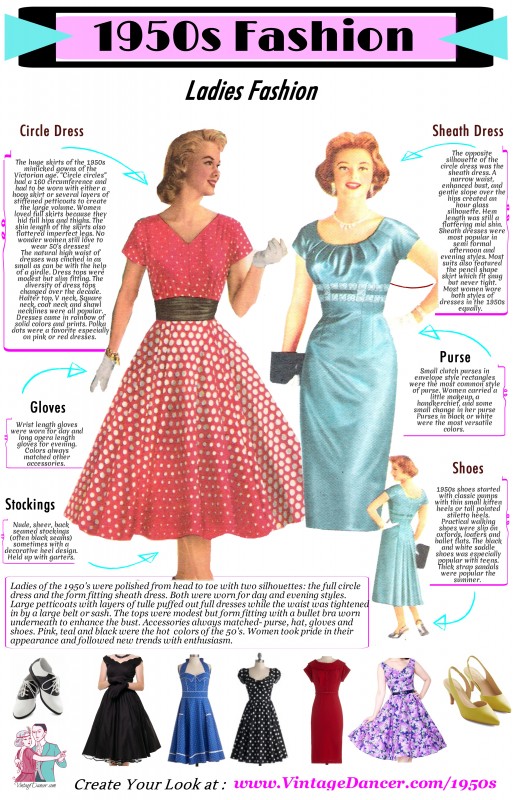 The attire of a man in the 1950's consisted of subtle colours such as beige, navy and black.
Since returning from the War, a 'military' style for men was popular in men's fashion in the fifties. Despite formal-wear being dismal, male casual wear was slightly more interesting in terms of both colour and style. Popular choices for casual wear were cardigans, shirts and vest sweaters. Cardigans and vests were popular because of their versatility. Similar to the women of this decade, men were not seen as being dressed for work without a hat. Straw hats and plaid shirts – 'the cowboy look'  was favoured for weekend wear only.
Image Sources:
[1] http://theniftyfifties.tumblr.com/post/5619490150/1950s-vintage-car-architecture-retro-style-home-suburbs
[2] https://vintagedancer.com/1950s/1950s-fashion-women-get-look/
[3] http://fiftiesweb.com/fashion/1950s-mens-fashion/